Extruded polystyrene foam board is abbreviated as extruded board, also known as XPS board.

Extruded polystyrene foam board is a material that is continuously extruded and foamed by a special process. The hard film on the surface is even and flat, and the inside is completely closed-cell foamed. It has a honeycomb structure and has high compression resistance, light weight and resistance. Grinding, no water absorption, no degradation and other characteristics. Compared with EPS polystyrene foam plastic board, XPS board has greater advantages in strength, thermal insulation, and resistance to water vapor permeability. Even if immersed in water, XPS board can still maintain good thermal insulation performance and compressive strength, especially suitable for thermal insulation of buildings.

The main performance of XPS board:

1. Thermal insulation: thermal conductivity ≤0.028w/m·k (Watt/m·Kelvin), far lower than that of other thermal insulation materials, with high thermal resistance and low linear expansion rate, it is generally used in roof insulation Heating system, cold storage and internal and external walls.

2. Water absorption: As a kind of thermal insulation material, the water absorption rate is an extremely important technical indicator. If the water absorption rate is too high, the heat insulation performance will be deteriorated. The closed-cell structure of XPS board can effectively prevent the penetration of water molecules. Even if it is mechanically damaged during construction, XPS board can still maintain a low water absorption rate.

3. Thermal insulation: Low thermal conductivity is a necessary condition for all thermal insulation materials. XPS board uses polystyrene (PS) as the raw material, and the latter itself is an excellent thermal insulation material, plus this kind of board is produced by extrusion The tight closed-cell honeycomb condenser can effectively prevent heat conduction.

4. Compressive resistance: XPS board is a light-weight high-strength board, and its compressive strength can reach more than 350 kPa when the density does not exceed 40 kg/m3.

5. Environmental protection: The chemical performance of XPS board is stable, it does not volatile harmful substances, and it will not decompose or mildew. XPS board uses environmentally friendly raw materials in the production process, will not emit harmful gases, and the generated solid waste can also be recycled.

XPS board is widely used in the thermal insulation of walls, flat concrete roofs and steel structure roofs, as well as moisture-proof thermal insulation in low-temperature storage floors, parking platforms, airport runways, highways and other fields.


The lowest possible thermal conductivity is the goal of all thermal insulation materials. The thermal conductivity of XPS board is much lower than that of EPS board, foamed polyurethane, thermal insulation mortar, perlite and other thermal insulation materials. The polystyrene molecular structure itself does not absorb water, and its closed-cell structure with tight connection and seamless gaps between walls, so the water absorption rate of XPS board (≤1%) is much smaller than that of other rigid thermal insulation boards . General thermal insulation materials are easy to aging after several years of use, and the thermal insulation performance declines, while XPS boards have excellent anti-corrosion performance and anti-aging performance, and the effective service life can reach 30 to 40 years. In addition, the honeycomb structure of XPS board makes it have extremely high strength. Unlike polyurethane foam and phenolic foam, it is not easy to be brittle, so it is not easy to break, and it is easy to transport and install.
Equipment introduction

XPS extruded polystyrene foamed sheet production line uses polystyrene and foaming agent as raw materials, a kind of thermal insulation board extruded at high temperature. At present, the industry mainly uses HCFC as the foaming agent. Chlorohydrogen blowing agents have a greater potential for destroying the ozone layer, and the use of CFCs has been gradually restricted in accordance with the Montreal Treaty.

Based on market conditions, our company introduces excellent technology, tailors the development and development of CO2 extruded board equipment for customers. CO2 completely replaces HCFC foaming agent, and truly realizes the fluorine-free foaming process, creating a precedent for CO2 foaming. . According to the various needs of customers, multiple blowing agents can also be shared, one machine is multi-purpose, the whole process is automatically controlled by the central computer, and the production process is intelligent.



Equipment composition

1. Multi-component mixing system

Fully automatic computer controls the ratio of various raw materials, adopts the accurate measurement method of weightlessness, and strictly mixes the raw materials according to the settings. In order to produce high-end quality products, the feeding system uses vacuum feeding to ensure the stable delivery of raw materials.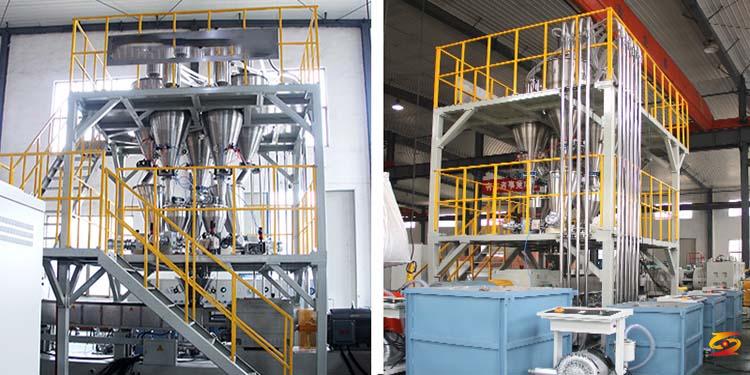 2. Extrusion system

The CO2 XPS extrusion system uses a parallel twin-screw extruder with a screw building block structure and is used in combination according to the processing technology of the material. Specially designed connection method, the transmission device enhances the strength of the threaded element and the mandrel, and achieves uniform dispersion of materials and good mixing.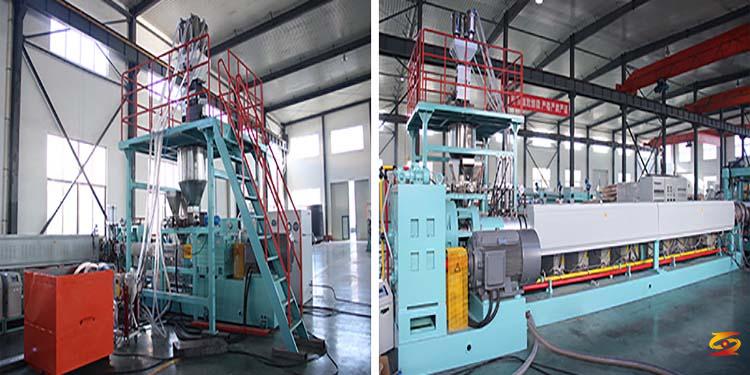 3. Cooling and constant temperature system

The precise proportional control cooling system is equipped with a high-power chiller to ensure a good cooling effect and meet the stringent requirements of the cooling system in the production process.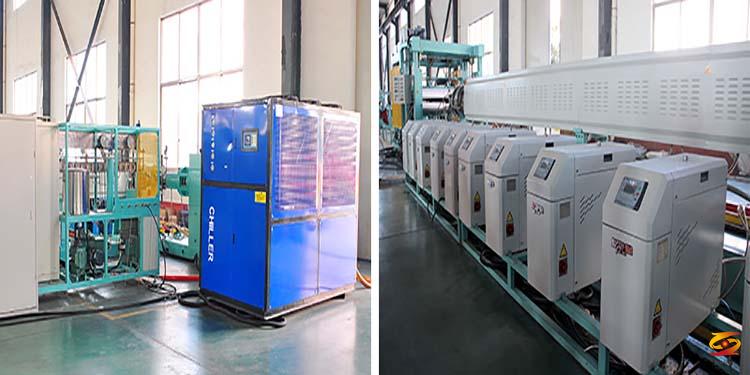 4. Supercritical CO2 blowing agent injection system

The supercritical CO2 foaming agent injection system is a utility model patented product developed by our company. It adopts a fully imported flow control system to accurately control the instantaneous volume flow and mass flow of the foaming fluid. A closed-loop control program is designed to maintain the stability of the mass flow. . The unique three-stage pressurized injection system maintains a stable CO2 liquid state, ensures the formation of a homogeneous system, and uses an automatic flow feedback control system to maintain the stability of the blowing agent flow.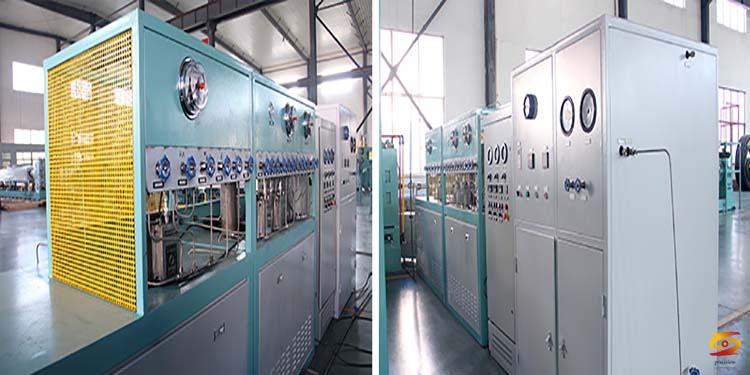 5. Extrusion die, sizing system

According to the rheological characteristics of PS physical foaming material at low temperature and high viscosity, the extrusion die adopts T-shaped large manifold, long fan-shaped regional head to build pressure extrusion, oil temperature control of the circulation system, and PID intelligent temperature control module to form a closed-loop control system , Can accurately control the mold temperature within the process requirements. The bidirectional electric adjustable device of the molding system, proportional control of low resistance system materials, double-sided shaping.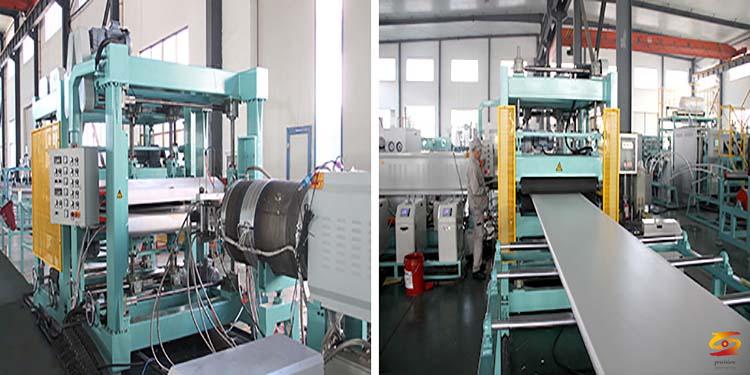 6. Fixed length cutting and conveying system

Online post-processing system, after cooling and forming products, automatic fixed-length cutting, trimming, vertical and horizontal edge forming, automatic stacking, multi-point monitoring, automatic alarm, automatic packaging system.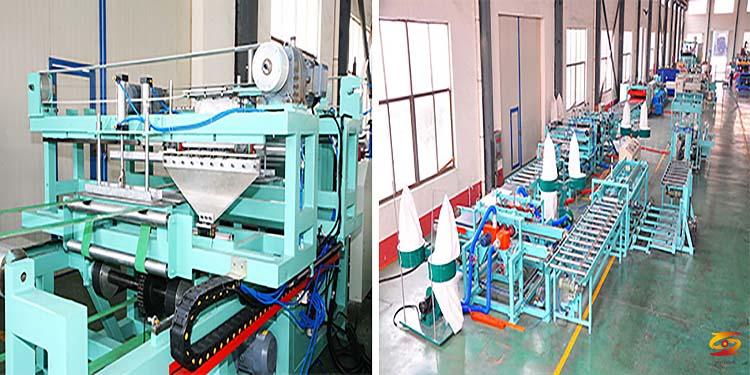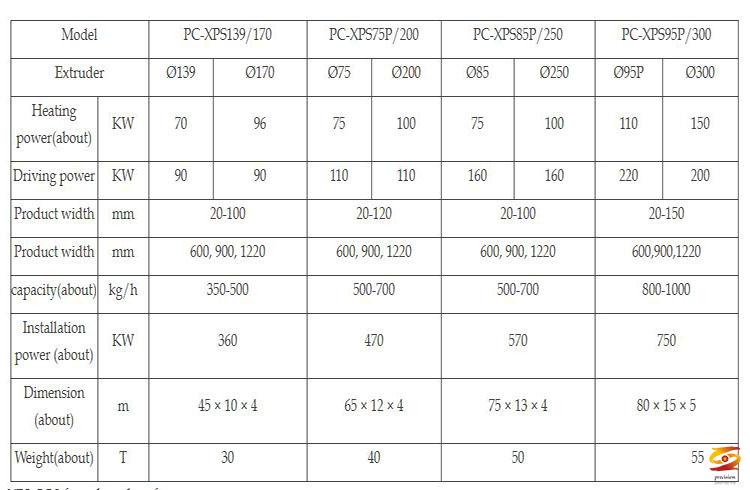 XPS CO2 foam board performance
◆ Flat and even surface, completely closed-cell internal honeycomb structure
◆ Thermal insulation, thermal insulation (thermal conductivity 10℃: ≤0.028w/Mk), excellent sound insulation and moisture resistance
◆ High pressure resistance (pressure: ≥250kpa), light weight (density up to: 28kg/M3)
◆ Non-absorbent (absorbent: ≤ 1.0%), non-breathable, wear-resistant and non-degradable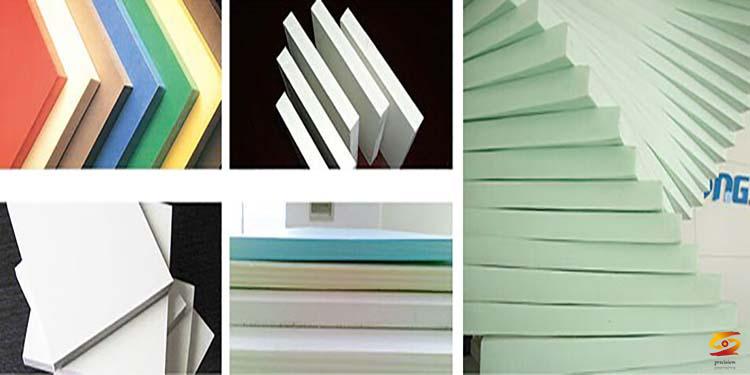 CO2 XPS is widely used and is currently recognized as an environmentally friendly thermal insulation material

◆ Used for waterproof, heat preservation and heat insulation of walls and roofs of residential buildings, office buildings, industrial plants, etc.

◆ Insulation board for cold storage, keep cold and waterproof

◆ Used for central air-conditioning ventilation pipes, heat insulation and heat preservation

◆ Anti-freezing and heaving materials used for concrete water conveyance channels in water conservancy projects (such as the South-to-North Water Transfer Project)

◆ Antifreeze and heat insulation for road, railway, airport, square and other subgrade projects